Forget The Letters Try These Tips For Finding Your Perfect Size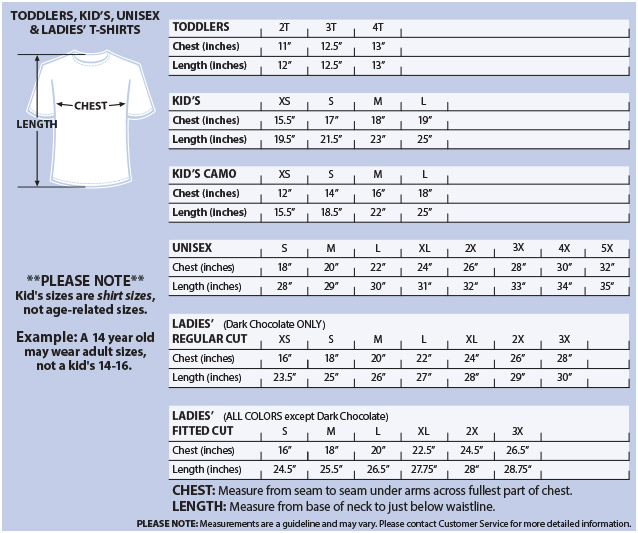 Our sizing chart is a guideline and features a size (S, M, L,…) and a number of inches for the chest and the length.
The chest size is the measurement in inches of the preshrunk garment (lying flat and pulled taut) from seam to seam under the arms across the fullest part of the chest. So the measurement given is for half of the dimensions of the shirt. You will need to double the measurement for the full diameter of the garment. (For example, the Medium adult tee is listed as 20-inches, so the full diameter is approximately 38 to 40-inches.)
Our suggestion is to take a garment that you already own and that fits you well, measure it like we explained above, and compare that measurement to the chart to pick your ideal size. Keep in mind that the ladies tees are fitted (except the dark chocolate) and the adult sizes are not. Some ladies prefer to size up, if they are purchasing the fitted garments. Other ladies like the form fit. It's all about preference!
The length measurement on the sizing guide is how long the preshrunk garment is in inches. This measurement is taken from the back of the collar to the bottom of the garment with the garment laid flat and pulled taut. Please note that the ladies tee shirts are shorter in length than that of the adults in the same letter size. At this time we do not offer tall sizes.
We hope this helps to take a little bit of the mystery out of selecting your perfect fit. Please let us know if you have any questions or suggestions. Our Customer Service Representatives are available Monday through Saturday from 9 AM – 9 PM ET to assist you.
Subscribe & Save: Sign up today for exclusive access to our best sales, new arrivals, and special offers