Customer Photo Of The Week – Team Gina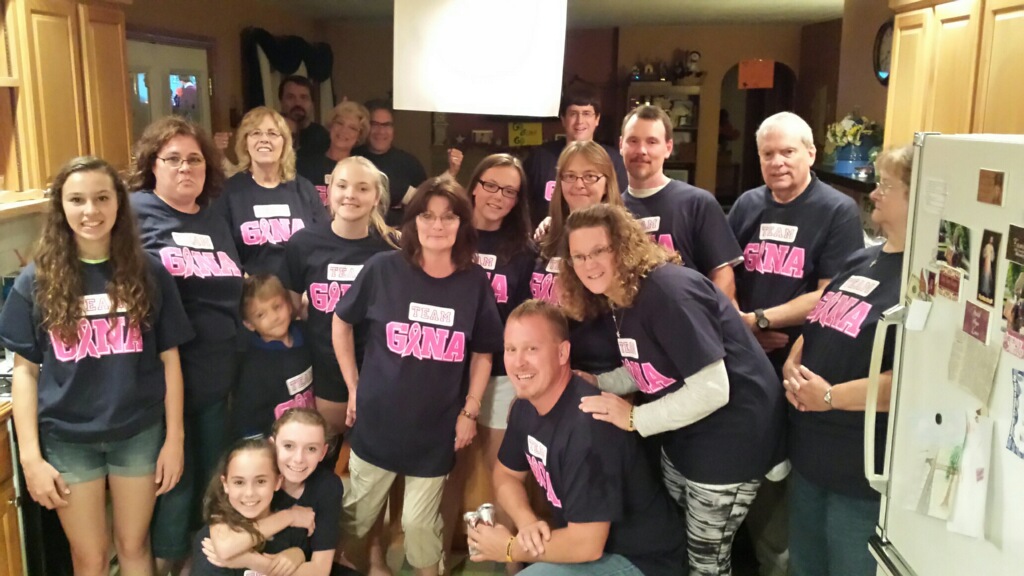 Our Customer Photo Of The Week comes from our own In-House Council, Nick C. "I have attached a personal pic – we had "Team Gina" shirts made to support a friend – who had just started to battle breast cancer. Her battle continues, but her hair is back and she is in remission!" "We had these shirts done before InkPixi formulated a design to support breast cancer – Kelly Vatter came up with the unique design of using the pink breast cancer awareness ribbon as the "I" in Gina."
You may remember our blog post featuring Kelly several months ago. She is one of the fantastic graphic artists from our Custom Design Division, ESM Printworks.
Join us in giving this group a big shout-out and sending Gina well wishes.
We want to see which fun and unique InkPixi designs your family wears. Which custom designs are you wearing to your spring celebrations, birthday parties, or long weekend trips? Do you plan to wear a custom shirt or hat for family photos? Will your family sport our personalized shirts for your reunion this year? Send us those pictures and your stories! We would love to share them as our customer photo of the week and give you a shout-out too!
If you would like us to feature your fantastic family photographs simply, capture your memories, post them on Facebook, and tag us!
We'd love to hear from you. We greatly appreciate your time and input! Please review us on Facebook!