Perfectly Pleasing Personalized Gifts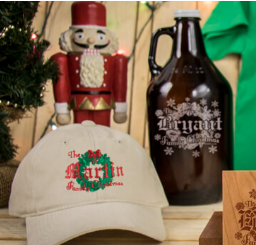 Our personalized gifts are thoughtfully and professionally laser-engraved, embroidered, or printed with your customization. We have something for just about everyone on your list – including top-notch glassware, apparel, and Cherry wood coasters and bottle openers featuring exclusive designs from our talented artists. And, personalization is super easy – we call that gift giving made simple! Personalized gifts are perfect for the ones you love. Here's why:
InkPixi artists deliberately design our products with you in mind, which is why you won't see our custom barware designs anywhere else.
The original artwork truly makes our designs one-of-a-kind. Our artists spend a great deal of time designing and testing all of our items before making them available to you.
Know that when you present your loved ones with these treasured keepsakes, they will be cherished and used.

Our custom and unique giftware will cause your family and friends to fondly think of you. Because, when you give personalized gifts you are creating memories.

Personalized gifts are ideal for the hard-to-buy-for person that "has everything." Once you gift them with our barware and custom apparel, they will have everything!

Custom giftware takes the guesswork out of searching for the perfect gift for that person who seems to have it all. We offer a lot of designs, so you are sure to find something for your special someone.

When you purchase from us, you know you are getting high-quality items that are beautiful and made by our family right here in Grove City, PA.

At InkPixi, we take special care to ensure that your giftware is all that it can be. Our staff of skilled embroiders, printers, and engravers work around the clock producing your personalized gifts. Our customer service staff are on hand to assist you Monday through Saturday from 9 AM – 9 PM ET.  Did I mention that they are friendly and helpful? Well, they are! We appreciate our customers and we show it in our workmanship and excellent service.

You won't be breaking the bank. Our personalized gifts are very affordable and they never go out of style.

The prices are kept fair, so you have the opportunity to provide your loved ones with special gifts. Our gifts are timeless – your name is your style!

Custom Proud To Be gifts design #D573

Pop the top off your favorite brew and raise your custom pint glasses to our engraved personalized gifts. Protect your furniture with our beautiful Cherry wood coasters, featuring your name. Gift custom sweatshirts to your relatives at your next get together. Personalize a set of beer mugs for a splendid wedding gift. Sport your name on our shirts for family photos – we even have the babies covered! The possibilities are endless and personalization is super easy. We're your one-stop shop for personalized gift giving!

University Cherry wood coasters design #A121

Be sure to sign up for our email list and receive exclusive offers available only to our email subscribers!