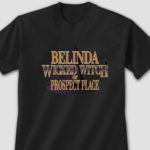 Why wear a disguise for Halloween when you can wear a shirt like this?
Packing more attitude than any of our Ladies Tees yet, "Wicked Witch" has already made a gag-gift round of InkPixi offices. (Along with jokes about "broom parking" in the second-floor hallway.)

InkPixi is a small-town American company in western Pennsylvania. We value hard work, creativity, the members of our team, and you - our customer.