Greetings! My name is Gwen and I work in the Online Marketing Department at InkPixi. I wanted to share my story with you about how I found a way, using my sons' personalized shirts, to preserve memories, recycle, and support a great company!
I have a hard time getting rid of things, especially when there's a good memory attached. That includes a lot of my sons' belongings. I have forced myself to part with some of their stuff, but that leaves everything else I can't seem to let go – especially their personalized shirts. You know, which ones I mean. The ones that upon seeing take you back in time, and you lose yourself all afternoon reminiscing about the "good old days."
What a conundrum I was in – the need to downsize versus the attachment I had to the tees. How could I part with something that brought to mind so many precious memories and evoked so much emotion? My young adult children didn't wear the shirts anymore; they just hung in their closets like the question of what to do with them lingered in my brain. Who would want them anyway? A lot of the personalized shirts featured our family name. Therefore, I reasoned, they couldn't be donated and the thought of them in a landfill just made me cringe. There remained the question – What should I do with them?
I knew someday I would find a purpose for the beloved garments. After all, I am not a quitter! Then, a friend told me about t-shirt quilts. I loved the idea, but they were pricey and I don't sew. Some time later, I found an ad for Project Repat! Halfheartedly, I checked them out. Boy, am I glad I did! The prices were reasonable and they were environmentally conscious! They are all about nostalgia, recycling, and providing lost apparel jobs to the American people. They were the answer to my problem and a company I could feel good about supporting.
T-Shirt Quilt Made By Project Repat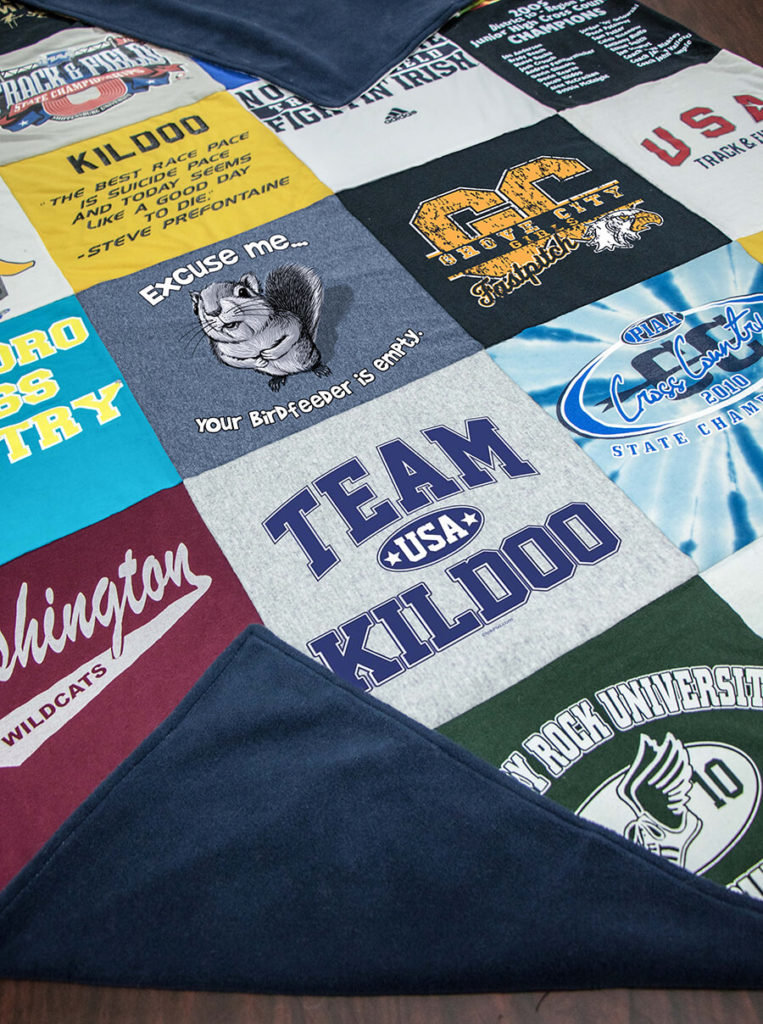 The quilts are a timeline of the adventures of two rambunctious little boys. Each square tells a story of my sons' history. They serve as a reminder of life lessons, faith, family, and friendships. Every time I look at the quilts, I'm filled with contentment and warmness; much like the coziness and memories they will provide my sons for years! Many thanks to Project Repat for helping to preserve our family's treasured memories.