Custom Sweatshirts – Measuring Tips for Success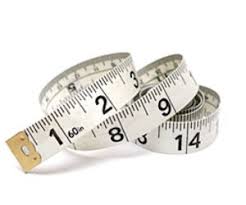 Our custom sweatshirts are roomy and there's good reason. They make great garments to layer over tees and other slimmer-fitting garments. Sweatshirts are cozy and provide the extra layer you need when the temperature starts to drop. "But what size should I order," you ask? That is a common question that our Customer Service Representatives are asked.  Here are some tips that will help you to answer that very question.
Take one of your favorite, well-fitting sweatshirts out of your closet, grab your tape measure, and follow these instructions:
Finding the chest measurement of your sweatshirt…
Lay your sweatshirt flat on the floor or a table
Pull the garment taut
Measuring the front only, place the measuring tape at the far left side and measure straight across to the far right side
Measure twice, for a more accurate read
Write that number down  (This measurement is half of total chest size. So, for example if you measured 20" that means that it would measure approximately 40" the entire way around.)
The next important measurement you will want to check is the length of the garment. If you are exceptionally tall, you may need to go up a size to get added length.
Finding the length of your sweatshirt…
Lay your garment face down (the back will be facing you)
Pull your shirt taut
Begin at the top of the back collar and measure to the very bottom
Measuring twice will help ensure a more accurate read
Write your number down
The final measurement you will want to measure for is the sleeve length – This measurement is a bit trickier.
Measuring your sleeve length… 
Begin at the front and center of the collar of the garment, measure to the seam at the shoulder
Write your number down
 Measure from the shoulder seam to the very end of the sleeve
Add this number to the first number
Take these measurements twice for more precise information
Now that you have your numbers, click on our sizing guide for custom sweatshirts and compare the measurements on the chart to the ones you've calculated. You will be able to determine the most accurate size to order for you. And as always, if you need assistance please give one of our friendly, Customer Service Representatives a call at 1-800-440-1210 between 9 AM – 9 PM EST,  Monday through Saturday.