Celebrate Oktoberfest with Personalized Shirts and More
You don't have to be Irish to celebrate St. Patrick's Day any more than you need to be German to tip a mug during Oktoberfest. Any occasion is a good excuse to gather with friends, grab a cold one, and make memories. And it's probably wise to know a little about why you are celebrating Oktoberfest – especially if you will be walking around with custom pints or personalized shirts featuring our Oktoberfest designs. We've compiled this list of some well-known and some not-so-well-known information about Oktoberfest. Read on and you'll be able to wow your friends with your knowledge about  the world's largest festival.
                                             German Eagle Design #A257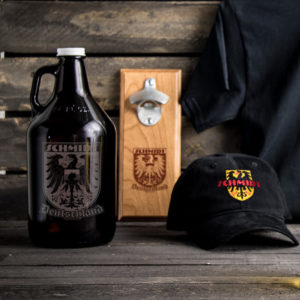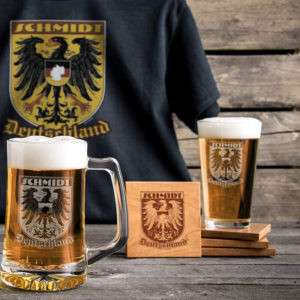 Oktoberfest History
Oktoberfest began in 1810 as a celebration of marriage between Crown Prince Ludwig and Princess Therese of Saxony-Hildburghausen. The citizens of Munich were invited to attend the commemorative event on October 12, 1810. The festival closed with horse races, which became so popular that it was decided to repeat them the following year. Hence, the tradition of Oktoberfest began.
The following year, an Agricultural Show was added to the horse races. The horse races, which were the highlight of the festival, are no longer held, but the Agricultural Show is held every three or four years during Oktoberfest. The festival added beer stands and eventually they were replaced with beer tents and halls. Oktoberfest has evolved much throughout the years!
Oktoberfest Today
Today, Oktoberfest is the largest festival in the world with over six million visitors from all over the world. The festival grew from a one-day celebration to a sixteen-day event. Each year over six million liters of beer is consumed. But, not just any beer, it must be from Munich. There are six breweries in Munich and that is the only beer allowed to be served at Oktoberfest. And the beer must pass the Purity Law, which was passed in 1516. The Purity Law, known as Reinheitsgebot, permits only hops, barley, water, and yeast to be in the beer. To say the Germans are serious about their amber-colored, liquid goodness is an understatement!
More Oktoberfest
Each year, over 4,000 items are lost at the enormous festival. After six months, any unclaimed items from the lost and found will be sold at an auction. From 1914-1918 Oktoberfest was not celebrated due to the First World War and in 1919 and 1920, instead it was celebrated as an Autumn festival. Oktoberfest was cancelled in 1923 and 1924 due to inflation and again during the war years from 1939 to 1945. The traditional opening ceremony "O'zapft is," (The celebration has started) consists of the Mayor tapping the first barrel of beer. Then all are free to begin tipping their glasses!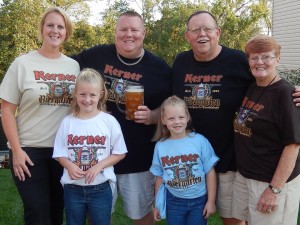 Now when you and your crew wear your personalized shirts  to celebrate Oktoberfest, you'll be "in the know." Check out our full selection of designs, add your name, and let the merriment begin!