Custom Coffee Mugs For All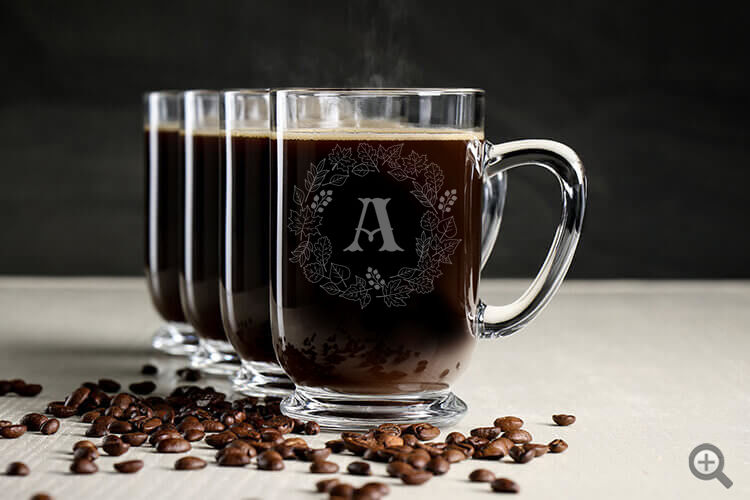 It's a crisp fall morning as the alarm sounds. The thought of a fresh hot cup of coffee in your custom coffee mug gets you up and moving. The aroma of the brew fills the room while you pour 16 ounces of caffeinated gold into your personalized cup. Ready to start your day, you head out the door eager to get your work done in the office. Speaking of the office, what better place to keep another coffee mug, personalized with your name and one-of-a-kind design? Now you never have to worry about someone else using your cup.
As you enjoy every sip of your afternoon Dark Chocolate Caramel Latte, you notice your co-workers watching. Is it envy? It's a safe bet that if you take a day off, Patty in accounting may try to "borrow" that awesome glass. That's when an idea strikes! Even though it may be a bit early, tis' the season for giving. Your co-workers will be ecstatic when they come to work and find their very own personalized gift waiting on their desks. Maybe it's the gesture of giving that will get them buzzing, or maybe it's because of all the fresh hot beverages that will be consumed. Either way, it's a win! Thanks to you, the office will be full of awesome cups everyone will enjoy.
As you settle in at home and feel proud knowing the joy you are about to bring to your co-workers, you start thinking about your loved ones. Many memories of evenings huddled around the fire sipping hot chocolate or apple cider come to mind. A happy feeling comes over you with the decision to get your family matching mugs. With endless possibilities, you sit down at your computer and start searching for the right design to surprise your family, but not before getting another fresh cup of Joe in your favorite custom coffee mug.
Check out our available designs and order yours today!