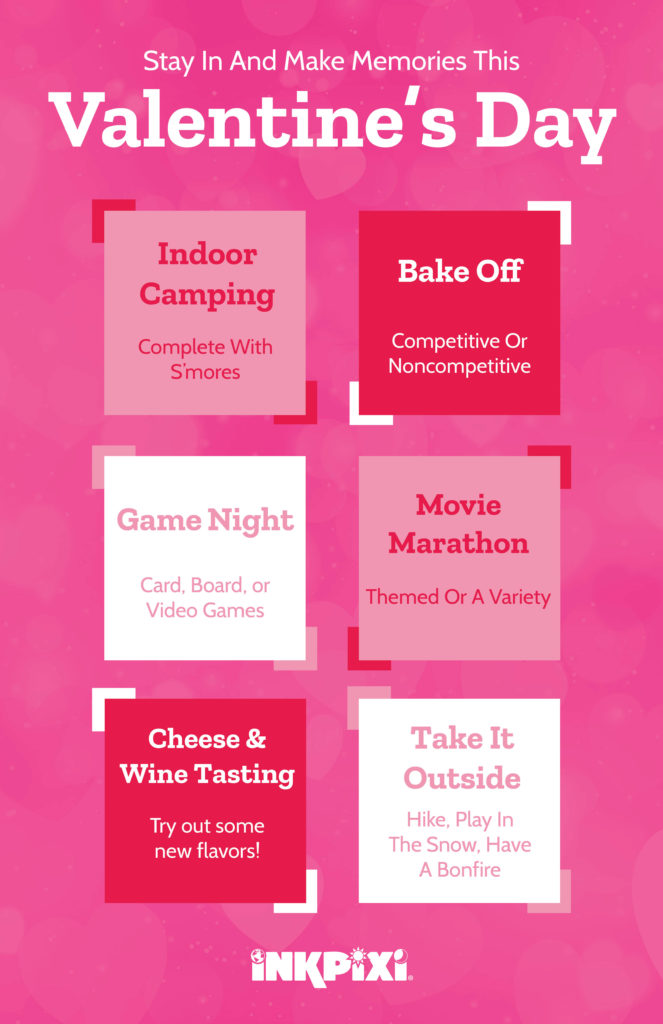 Change things up a bit this Valentines' Day. Do something unexpected. Something fun. Here are six ideas for stepping up your game this year.
Indoor Camping – Pitch a tent in your living room. If you don't have one, you can drape blankets over furniture, fort-style! Blow up an air mattress, string some lights, and make some camp food. Don't forget the S'mores!
Have A Bake-Off – Select new recipes and try your hands in the kitchen. You can make this competitive – complete with prizes. Or, go low key – cook a meal together and enjoy a candlelit dinner for two!
Game Night – Card games, board games, and video games, oh my! Set out the snacks and get ready for a night of fun. Pick your favorite games, or buy a new one to try.
Movie Marathon – Pop the popcorn and get out your old favorites. Choose a theme. Watch a series (Harry Potter, Star Wars, The Godfather). Binge on your favorite TV shows. Rotate between your pick and theirs. Order take-out and spend the whole weekend in your PJs.
Wine/Cheese Tasting – Start off with a little research. Do you like dry? Sweet? Red? White? Rose'? If you're unsure, ask at the wine store what are the most popular, and grab some of each. Then purchase several types of cheese to pair with your wine selections. The internet is a great resource for suggestions on these pairings. Watch our Live video for Gwen's personal picks. Make a charcuterie board – add nuts, fruit, meats, baguette, pickles, and/or olives. Pour some wine and enjoy it.
Take It Outside – A Scandinavian mom wrote, "There's no such thing as bad weather only bad clothes." Bundle up or not, depending on where you live, and get outside. If it's snowy, build a snowman or a fort and have a snowball battle. Take a hike or go cross country skiing. Snowshoeing is a fun option too. If it's warm, go on a hike, have a picnic, and roast marshmallows around a campfire. Get out the hammock or a blanket and stargaze.
Bonus – Put your mobile devices away for the ultimate experience. Spend quality time with your love and make memories that will last a lifetime.
How do you plan to spend your Valentine's Day? We'd love to see your comments below.