Preserve your memories, decorate, and be eco-friendly! Don't discard your tees, recycle them into pillows. They would be ideal for a college dorm room, family room, man cave, camp, or child's bedroom. T-Shirt pillows also make great gifts for a new college student, a sports enthusiast, or an avid sportsman. We found a pin and a video for you to check out on how to make your very own pillows. The best part – it requires no sewing! The pin also shows you what to do with the excess material you cut off at the bottom of the tee!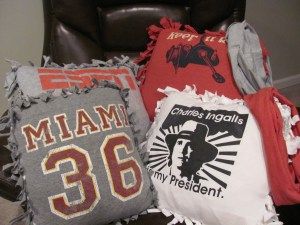 Did You Know…
The average American disposes of 65 pounds of clothing each year? That's a lot of garbage!
People don't donate their clothing because it's more convenient to throw it away.
People are unaware that about 90% of all textiles can be recycled.
A tee lives in a landfill for a long time before it decomposes. One cotton glove takes about 3 months.