It's hard to pinpoint what exactly is so appealing about Halloween. Maybe it's the friendly flirtation with the spookier side of life – the side of life most of us hide away the rest of the year. Maybe it's because it feels like a true fall holiday. Thanksgiving is a great celebration of family and harvests, but it comes along a little late in the season; it feels a bit more winter than fall. But Halloween gives us the opportunity to get out in the middle of autumn, gather fall staples like pumpkins and apples, and get a little weird with it all.
All in all, about as good a holiday as you could ask for.
Apple cider is a perfect fall drink. Crisp, refreshing, delicious. In fact, the only thing better than apple cider is hard apple cider! Luckily, we live in a time where more and more cider houses are opening their doors – there's no shortage of hard apple ciders out there. But if you really want to get into the spirit of fall harvest, why not take a stab at brewing your own batch? You can find countless recipes with a simple Google search, but here's one that I've come to enjoy.
And when that autumn wind is chilling the landscape down to the bone, go ahead and heat a batch up for some mulled hard cider.
Share your perfectly harvested and perfectly mulled bounty with friends and loved ones in custom style with InkPixi's engraved mugs.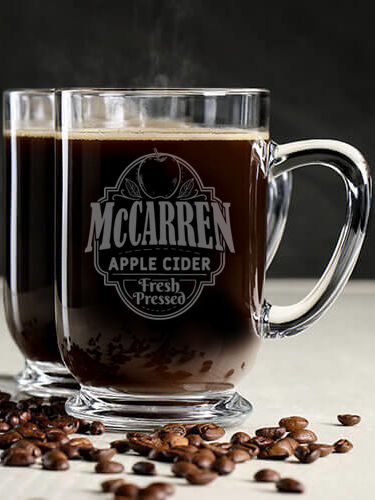 Of course, what's the point of heating up if you're not getting a little chilly. It's the time of year for pumpkin patches, and the exhilarating hunt for the biggest and best pumpkins around. Pumpkin patch weather is hoodie weather, and InkPixi has you covered.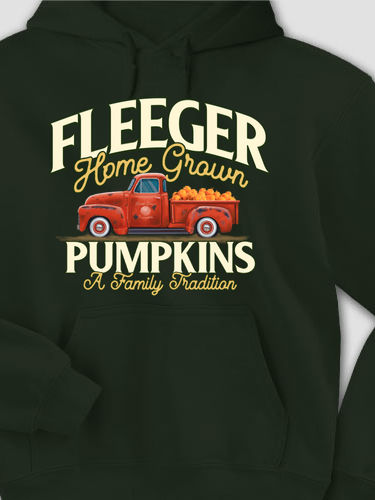 Love it or hate it, pumpkin spice is here to stay – and it owns autumn menus and recipes. If you already like pumpkin spice then you're going to love this, and if you've been hesitant to give it a shot, this might be exactly what you've been looking for: the Pumpkin Spice White Russian.
Ingredients (serves 2)
For the rim of your rocks glasses
1 teaspoon pumpkin pie spice
1 teaspoon sparkling, decorative, or raw sugar
3 tablespoons crushed graham crackers
Pumpkin Spice White Russian
4 ounces good vodka
3 ounces pumpkin spice creamer
2 ounces Kahlua
Whipped cream, pumpkin pie spice, and cinnamon stick for garnish
Instructions
Mix the ingredients for the rim together on a shallow plate. Dip the edge of two rocks glasses in water and then dip into the mixture. Press to coat. Set aside.
Pour vodka, creamer, and Kahlua into a cocktail shaker filled with ice. Shake lightly until blended and cold.
Pour into rocks glasses, and then top with whipped cream and garnish with pumpkin pie spice and a stick of cinnamon.
Sip and enjoy a fall twist on a delicious classic in InkPixi's custom engraved rocks glasses!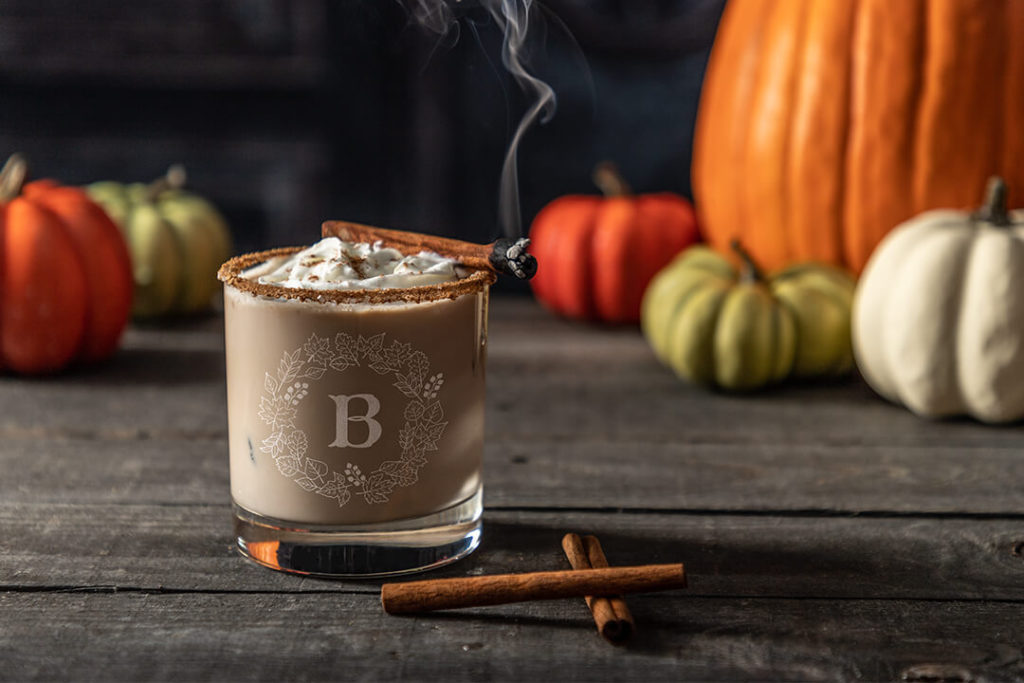 The best landscapes, outfits, flavors, and holidays are in fall – goldenrod takes over the fields and Spirit Halloween stores breathe a little life back into sad strip malls. Leaves sing a symphony of color and hearty stews simmer on stovetops. Fall is the best time of year, and InkPixi has a great collection of designs so you can add a personalized touch to your favorite season!