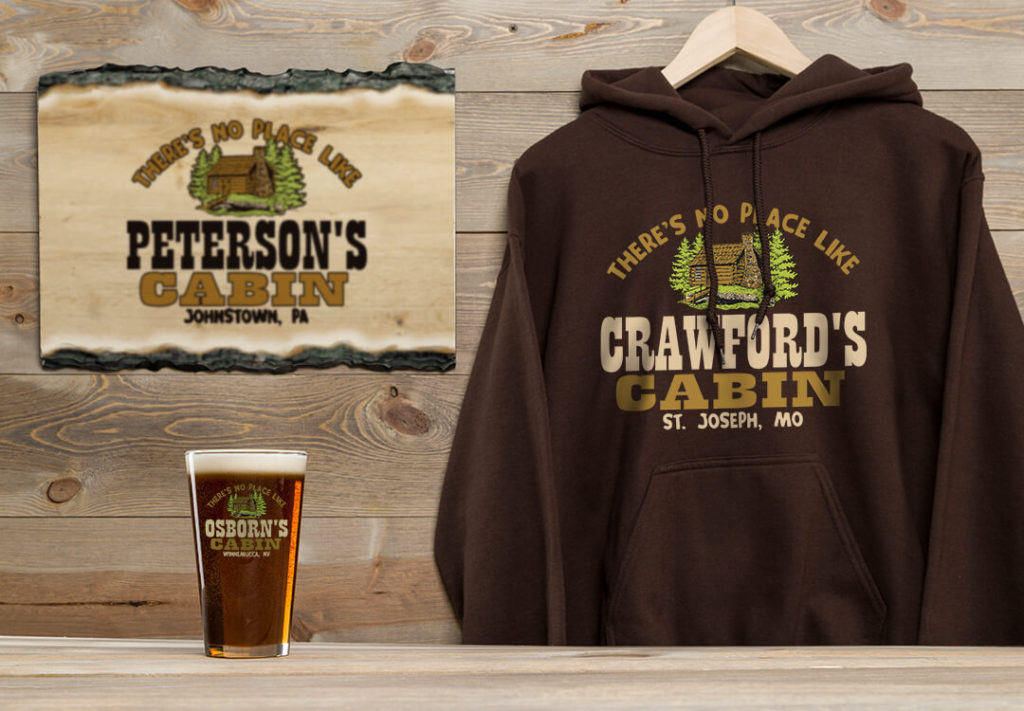 Our Cabin personalized gifts will add to your family fun and relaxation. Our new faux log plaque is perfect for the walls of your favorite hang-out. They look like an authentic live edge slice of wood. You will have to do a double-take and inspect it up close to realize it's not actual wood! There is even a wood-like texture when you run your hand across the front. They measure 16″ X 12″ X ½" with a pocket mount for hanging. They are made in the USA and expertly color printed by our trained team.  
 And your family will love to recollect happy times when they wear our custom hoodies. They are cozy and comfy – ideal for morning strolls in the woods and evenings sitting around the fire. They are great to layer over your tee when you catch a chill. Your crew will appreciate the color-printed design and personalization of these sweatshirts. They are a concrete reminder of memories made with their favorite people.
Speaking of memories, you'll make lots of those while sipping a tasty drink from our color-printed pint glasses. These clear cups have a full-color print and are dishwasher safe (top rack). You can purchase them individually or as a set of four, and they're made in the USA. It doesn't get much better than that. A set or two in your cupboards is all you'll ever need because you won't want to use any other glassware!
☕It's no wonder we all long to get away from it all. And we should – as often as we can. This year has been an exceptionally long, harsh winter and challenging for most everyone. Couple that with cabin fever, which is a real thing, and that's even more reason to pack up and head to your happy place.
We offer a complete collection of personalized gifts in our popular Cabin design. Check out our offerings, add your family name, head to the woods, and kick back.
Follow us on Facebook for custom apparel and giftware, DIY, recipes, and more.