The Story Behind Our Team Pink Personalized T-Shirt Design
You may remember our blog post in March about Team Pink, our personalized t-shirt design for breast cancer awareness.  Most people know or have known someone with breast cancer. The InkPixi team is no exception. Our owner, Nathan Depew, lost his mom to the disease in 1996 and Mary, a beloved employee, was in the midst of her fight. We created this personalized t-shirt design with both your friends and family, and our friends and family, in mind.
We also announced our intent to donate 5% of the sales of the Team Pink personalized apparel to the National Breast Cancer Foundation. The NBCF's mission is: "To provide help and inspire hope to those affected by breast cancer through early detection, education, and support services." We are proud to say that we recently sent them our first donation!
When we first shared our plan with Mary she delightedly stated, "It's a great idea. We've had a lot of requests for such a design. What a great way to give back." She paused, and then said, "Pay it forward." (Another pause), "Maybe the additional support will help to find a cure and put an end to this."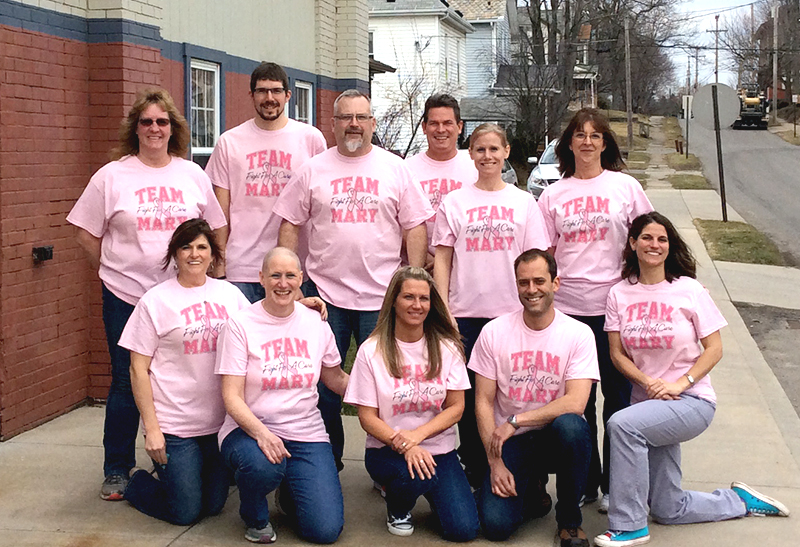 Mary hosted a Wine and Shave party at her home for close friends when her hair was falling out. It was a difficult day because it was the start of Mary's "loss of identity…the limitations…the taking away of independence." Our employees have rallied around Mary throughout her journey. She relayed, "Where would I be without my InkPixi family? They have supported me from day one with friendship, cards, encouragement, flowers, inspiration, financial support, and teamwork. You need to find joy in sadness, so celebrating was a way to keep positive."
Since then, Mary has undergone surgery and 33 rounds of radiation treatments. Her strength is returning, her spirits are high, and her hair is returning curly and lovelier than before! We celebrated the end of her treatments with a surprise party. The office was adorned with pink balloons shaped like ribbons, streamers, and food galore. Some of the employees dressed in pink and others sported a Team Pink personalized t-shirt. As of today, Mary's pathology reports were clear. However, she won't be able to say decisively that she is cancer free until October. We are all very optimistic. Come back for updates on Mary.