Team Mary Displaying Support In Personalized Breast Cancer Shirts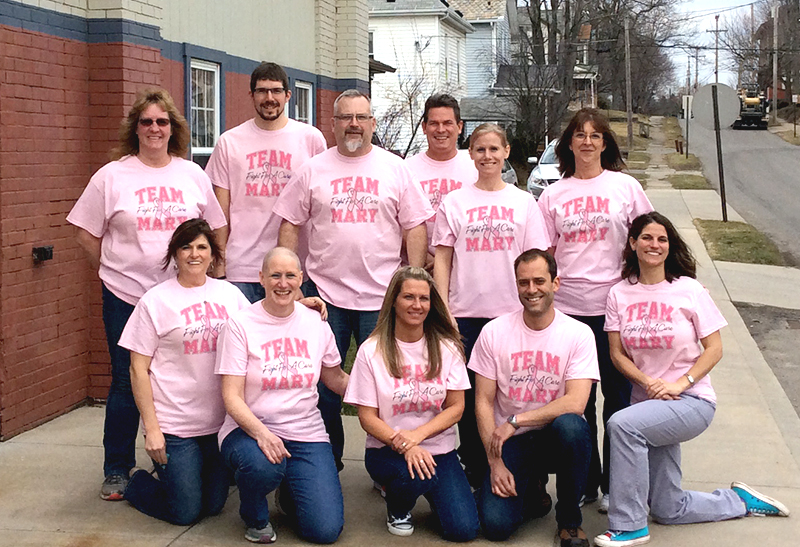 Mary Exhibiting A Gift From Co-Workers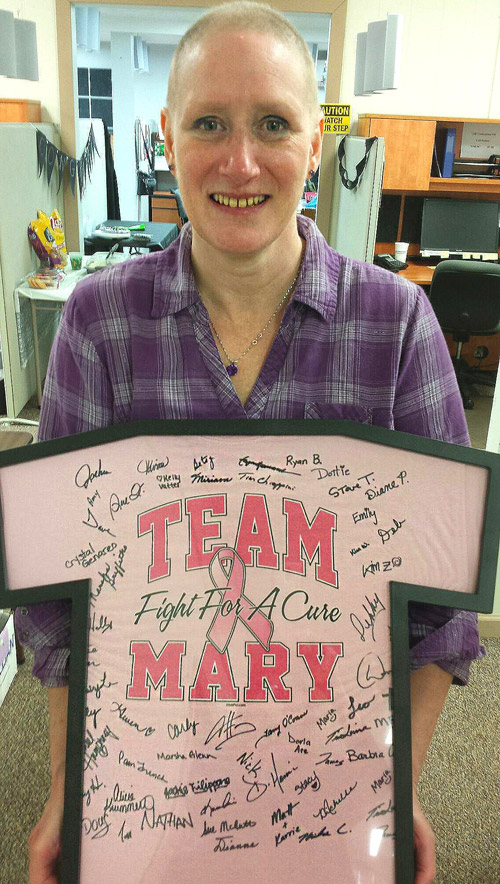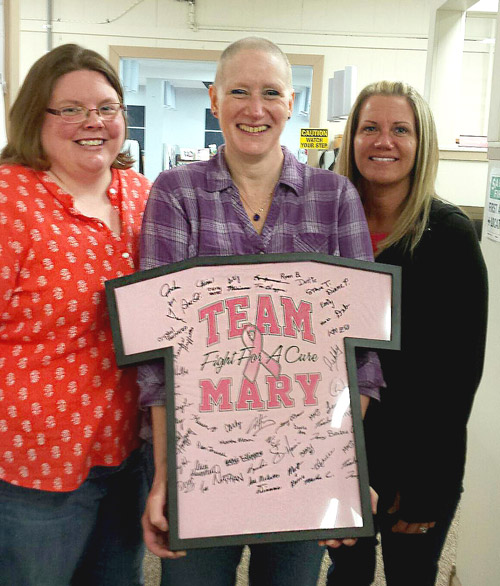 InkPixi is proud to introduce a new design: Team Pink! We are pleased to say that InkPixi donates 5% of the sales from every Team Pink personalized breast cancer shirt and hat to The National Breast Cancer Foundation.
The NBCF was founded in 1991 by Janelle Hail, who was diagnosed with the intrusive disease in 1980. The National Breast Cancer Foundation's Mission Statement is: "To provide help and inspire hope to those affected by breast cancer through early detection, education, and support services."
Breast cancer is personal, yet widespread; it affects 1 in 8 women and about 1 in 1,000 men. Most people know or have known someone with breast cancer. The InkPixi team is no exception. Our owner, Nathan Depew, lost his mom to the disease in 1996. Currently a beloved employee, Mary, is in the midst of her fight. So as you can see, we have created these personalized breast cancer shirts with both your friends and family, and our friends and family, in mind.
Walking around the office at InkPixi you will often hear our dear Mary say, "This too shall pass."
Mary's positivity through her journey has been downright touching. After her first round of chemotherapy, she hosted a Wine and Shave party at her home. Her sisters, daughter, beautician, and several close friends attended to share this new beginning. The unwelcome cancer, that so unapologetically ushered its way into her life, was the start of Mary's "loss of identity…the limitations…the taking away of independence." Mary bravely shared:
"Where would I be without my InkPixi family? They have supported me from day one with friendship, cards, encouragement, flowers, inspiration, financial support, and teamwork. You need to find joy in sadness, so celebrating was a way to keep positive."
Mary is delighted that InkPixi is donating 5% from the sales of the personalized breast cancer shirts to the National Breast Cancer Foundation. One of the most respected charities in the world, the NBCF directs over 80% of their profits to life-saving programs. They fulfill their mission statement with programs such as:
1. National Mammography Program –This program provides free mammograms to women in all 50 states.
2. Beyond the Shock – An online educational guide for those diagnosed, loved ones, and a tool for doctors to share useful information. Additionally, this program also offers a question and answer portion as well as inspiring stories from survivors.
3. Early Detection Plan – This cool feature allows one to set up a profile and will send reminders when breast self-exams, clinical exams, and mammograms are scheduled. It will also assist in locating a clinic near you.
4. Breast Health Education – This program offers in-person training sessions, materials at events, and online instructive modules.
"It's a great idea," Mary said. "We've had a lot of requests for such a design. What a great way to give back."
She paused, and then said, "Pay it forward." (Another pause), "Maybe the additional support will help to find a cure and put an end to this."