Horseracing and gambling go back thousands of years, and most likely predate recorded history. But there's still something quintessentially American about a bunch of gorgeous thoroughbreds tearing up the dirt track with such strength, speed, and grace. Even avid horseracing fans could probably name only 8 or 9 of the most famous yearly races, and the top 3 all take place here in the States. Almost everyone knows the greatest horserace of them all: the Kentucky Derby.
This Saturday will mark the 149th Kentucky Derby – pageantry, tradition, fashion, food, and drinks – everything blends together perfectly to create a multiday spectacle as brilliantly impressive animals compete for 2 breathtaking minutes. Of course, I've never been to the Kentucky Derby. It comes in at a price point I'm not quite comfortable with. But I've enjoyed it on television, sometimes on my own and sometimes at watch parties with race-related food and drink. Consciously ignore the billion-dollar industry behind it and you find a sport with simplicity and purity – these are fast animals, so let's just see which one is fastest.
However, over the years I have found myself at a few horse tracks, one of which I attended somewhat regularly and was always a fantastic time. On the border of Berkeley and Albany is a little bayside track; friends and I would often find ourselves there on a Sunday. Why Sunday? Well, Sundays were "Dollar Days" – $1 admission, $1 programs, $1 beers, $1 hot dogs, and $1 bets. You could walk in there with a $20 bill and have fun all day long. Even if we lost every bet, we still had a blast.
After the last horse crossed the line we would head a few miles south to a seafood restaurant with an impressive oyster bar – and it specialized in $1, $2, and $3 oysters. We'd gorge on oysters and cheap beers until closing time, and then we'd all head home satisfied. A day of feeling like high rollers on our working-class budgets.
Now let's imagine for a moment that not only did I have a good time at the track, but that I had a good day as well. Maybe I threw down some hard-earned Washingtons on a couple middle-of-the-field picks and went home with a few Jacksons. Well in that case there's really only one way to celebrate, and that's with the official drink of the Kentucky Derby, the Mint Julep. Mint Juleps are wonderfully refreshing, easy to make, and you don't have to care about horseraces, pageantry, or fancy hats to sit back and enjoy one. As the weather gets warmer I want something light, cooling, and ready to awaken my senses. Mint Juleps get the job done just right.
The History
The julep has quite a history behind it, originating in the 1400s in the Middle East—called a julab—it was a drink of water and rose petals, used to balance out bitter medicines or to aid in digestion. Mint replaced rose petals as it spread to the Mediterranean.
However, we can thank the American Colonists along the East Coast for adding a couple ounces of booze into the mix. It was the early 1700s, and any bold, brown liquor worked well with a splash of water, sugar, and mint. The base liquor was often what was most prevalent in any given region. And as bourbon wouldn't be invented until the end of the 1700s, it was often a rye or other whiskey, or sometimes even a cognac or brandy. What mattered most then is what matters most to this day – a cocktail should play with balance. A strong, bold, smoky liquor can be deliciously tamed with a few delicate ingredients.
The Mint Julep as we now know it was first written about by John Davis, an author who wrote extensively about a young United States. In 1803 he described the Mint Julep as a "dram of spirituous liquor that has mint in it, taken by Virginians in the morning." I think it's about time for me to get in on this classic Virginian breakfast routine.
The Round Robin Bar opened in Washington DC in 1847, and remains to this day one of the most iconic bars in the capitol. In the days before around-the-clock news coverage and celebrity politicians, countless deals and bills were finalized around the mahogany with stiff drinks and fat cigars. Henry Clay was a distinguished politician from Kentucky – a Congressman, Speaker of the House, a Senator, and Secretary of State. In 1850 he had a barrel of Kentucky bourbon shipped to the Round Robin, and then showed the staff how to make a Mint Julep. Rumor has it that his original recipe is still the one they use when mixing up their Mint Juleps – their signature drink.
In 1938 the Mint Julep was named the official drink of the Kentucky Derby and they sell around 120,000 of them over Derby weekend.
The history of a place or its people can be told with countless methods. Art, music, poetry, fashion, architecture, laws, economics, and so on – but my favorite method is with food and drink. And there's a fascinating bit of American history right in that sweet spot between moonshine and bourbon. I don't often make Mint Juleps, but I appreciate when some sort of cultural event or tradition provides me with a reason to drink something outside of my usual routine. By now I hope you've come to expect a bit of a rambling preamble before I drop the recipe on you – these articles are never just about the drink. They're about where the drink finds itself in both the larger cultural and culinary history, as well as how it's found its way into my home bar.
As with many cocktails there are variations and options, and there are debates about which way is correct. Some folks will argue that a Mint Julep must be served in a julep cup. The benefits are that it looks cool and it frosts up nicely, which adds to that overall refreshing quality of the drink. The downside—which is why I don't use one—is that then there's a cup taking up real estate in your bar that you use only when you make this one particular drink. As far as I'm concerned, a set of good rocks glasses is the best glassware for the home bar. They're sturdy and versatile; you can use them for countless cocktails, no matter what type of glass a drink "traditionally" calls for. So with no more delays, let's toss together a few basic ingredients and welcome warmer weather with an absolutely delightful drink.
The Recipe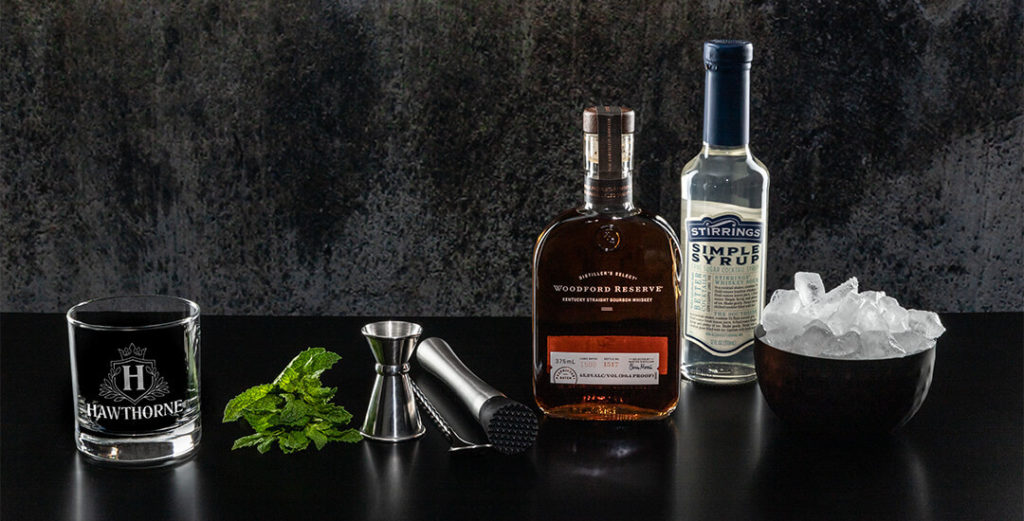 Ingredients:
¼ oz simple syrup
8 mint leaves
2 oz bourbon
A bunch of crushed ice
1 nice sprig of mint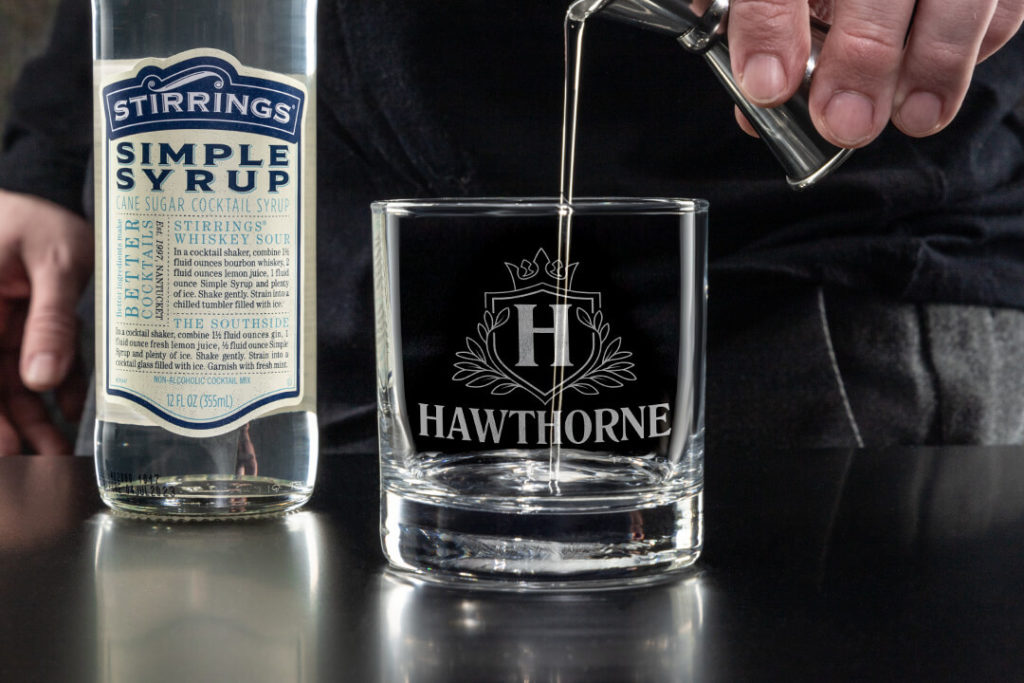 Pour the simple syrup in your glass and drop in the mint leaves.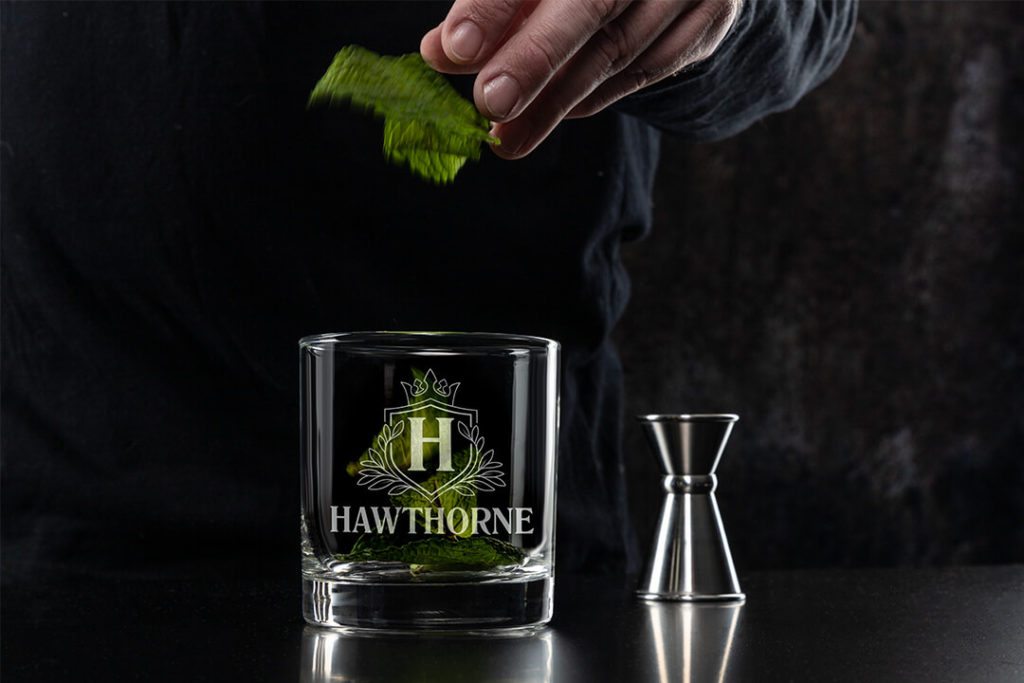 Muddle it all together until it's almost paste-like. You'll know when it's ready because the aroma of mint will flow throughout the room.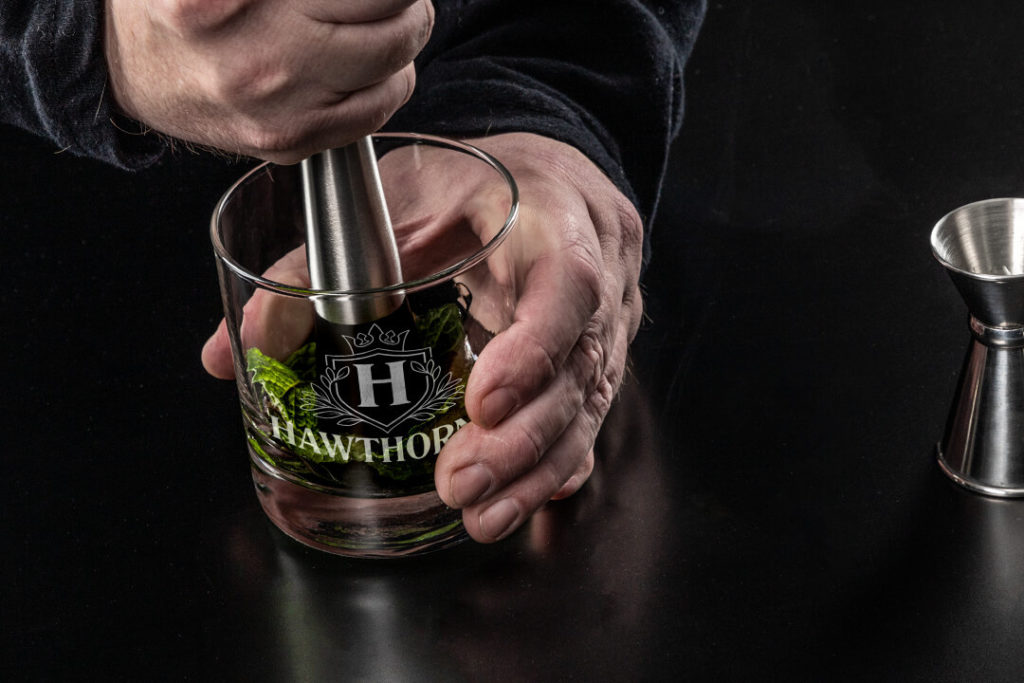 Pour in the bourbon, add a good scoop of crushed ice, and get busy stirring.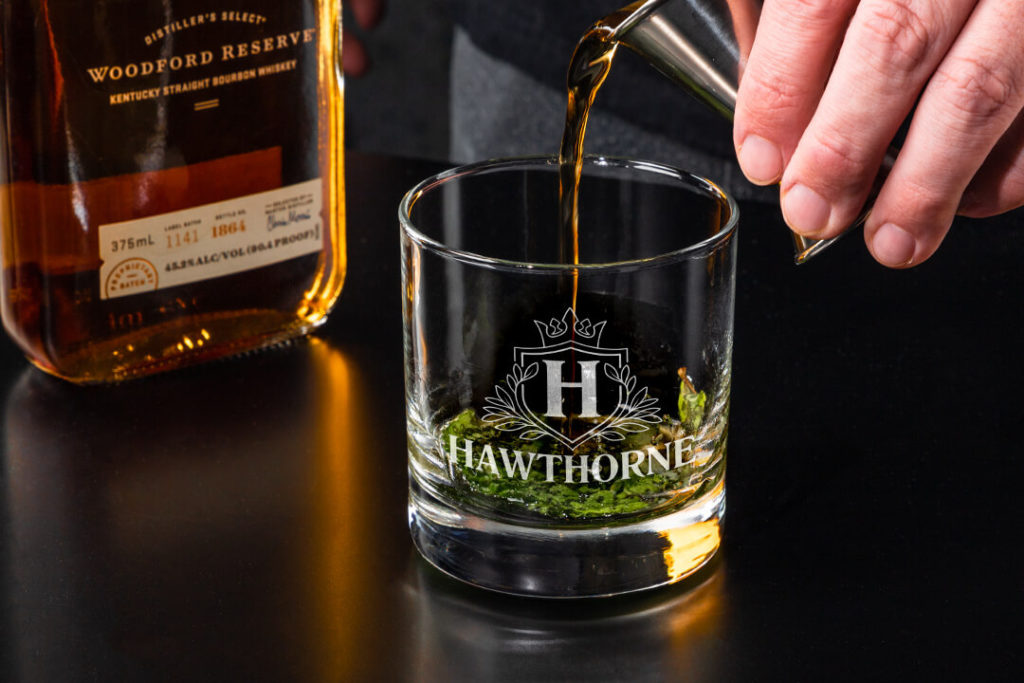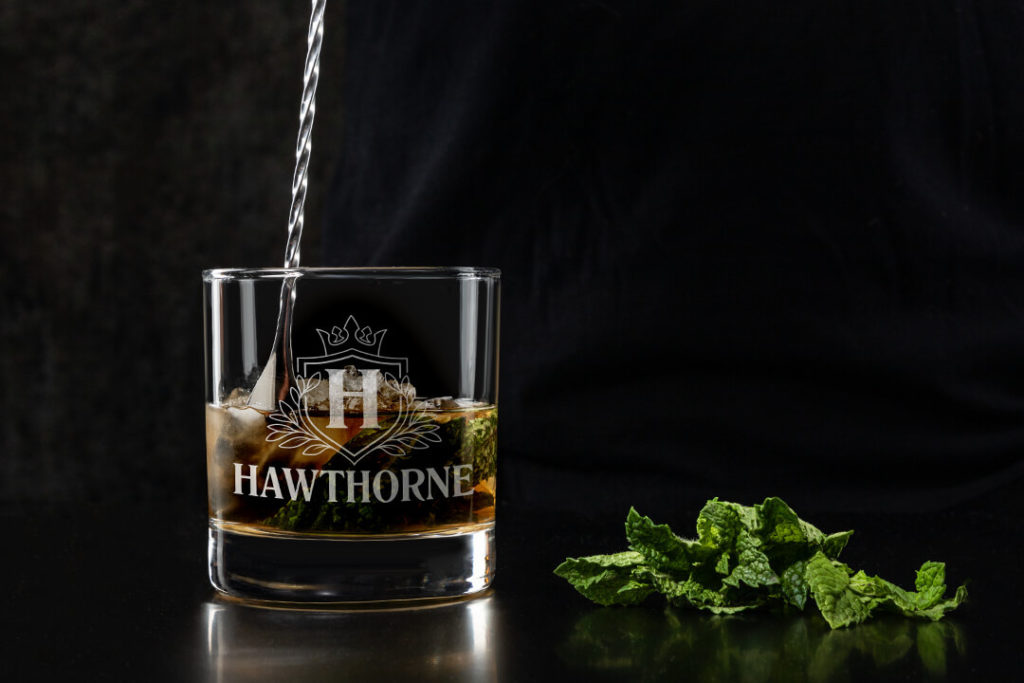 Once everything is well-blended, top off the glass with crushed ice, and then garnish with a sprig of mint.
Enjoy!
They go down easy, but try your best to resist that temptation. Sip that beautiful glass of ice-cold bourbon, sugar, and mint. Or if you feel so inclined, throw that first one back and make a second one for sipping. Drink responsibly. Gamble responsibly. But feel free to study history with reckless abandon. The Mint Julep spent centuries travelling and evolving. Enjoy that refreshing history and tradition, and then go ahead and enjoy another one.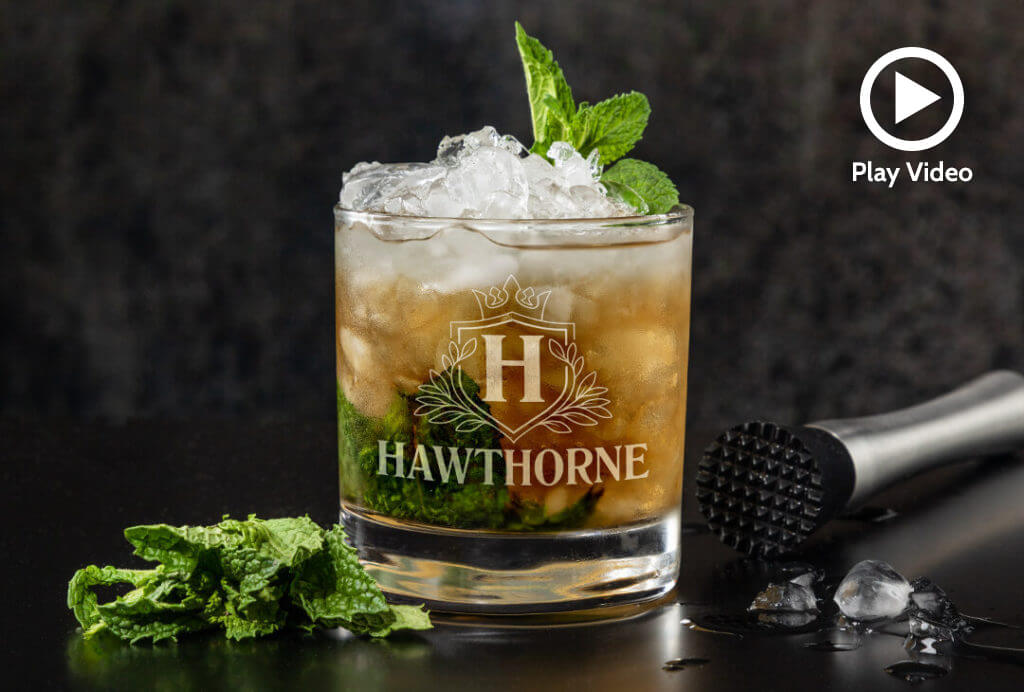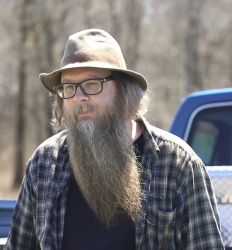 Latest posts by Jeff Schrader
(see all)